I really don't believe in people having guns. Like the only reasons I can think of to have a gun is A) hunting, and B) protection. A means nothing to me cause I don't go hunting and I didnt grow up in an area where people "hunt" so hunting is not a valid reason to have a gun, at least to me. And B protection. Ok the idea of having a gun to protect the home sounds like a good idea, but honestly I'd much rather just have a good enough job to afford a house in a low crime neighbor hood, along with have a security system on my home. But if you look at statistics home robberies are extremely slim, specially armed robberies. So the only other form of protection is carrying a concealed weapon which imo I do not like the idea of everyone around me packing heat. So unless I'm presented with a valid reason to own a fire arm, besides hobby or collection, I do not support the right to bare arms. It's barbaric and such an ancient means of "protection" and I don't believe in owning guns.


*z snap and dusts off hands and leaves*

My rights aren't up for negotiations based upon what you think and feel and believe, because gun ownership and the right to bear arms are both going to remain valid in both right and practice, independent of your own personal opinions and convictions on the matter.

In the same way that gay marriage still happens and isn't up for negotiation because people don't believe in it, so to will the same hold for gun ownership.

But thankfully, since we live in the United States of America, you don't have to own a gun if you don't want. What that also means however, is that you don't have the right to tell anyone otherwise, or to try and take that right away- especially since there aren't even any legitimate evidence-based policies involving gun control that've had any measurably positive effect.

OP is relying on two major fallacies in their argument that just stink of upper-class urban elitism.

The first is that all people can rely on supermarkets or are in a geographical area where food is a) affordable and b) easy to acquire. The predominately First Nations populations of rural Canada often cannot afford the costs of supermarket goods, as shipping to the remote areas of the country is expensive and not commonly done by major shipping companies. In some towns in the far north, the only way to deliver what we consider household goods is by aircraft. Because of this, the cost of a rifle and ammunition for hunting is much more economical than spending hundreds of dollars on groceries a week. Would you see these people starve in abject poverty merely because hunting "means nothing to me cause I don't go hunting and I didnt grow up in an area where people "hunt" so hunting is not a valid reason to have a gun"? These people hunt not only to survive, but also to keep their cultural heritage alive. Even in places as close to civilization as northern Ontario, many people sustain themselves through the use of firearms to hunt. Your personal preferences and sheltered lifestyle blinds you as to the reality of life outside your gated community.

The second fallacy is that somehow people can "just have a good enough job to afford a house in a low crime neighbor hood, along with have a security system on my home". Do you have any idea how poverty works? Do you not understand that the things you assume people can just acquire are not readily available to everyone? Do you think it would be easy for a lower-class Latino woman from south-central Los Angeles, with almost no money to her name to pay for the training needed to get a well-paying job? Colleges and trade schools are expensive, and even then, the job market is not just handing out six-figure contracts as though they were toothpicks at restaurants. In low income areas, Police response times can take up to forty minutes, meaning that unless you are incredibly lucky, the Police will do nothing more than act as a mop-up team for whatever crime was committed. Just because you have the money to buy yourself a fancy security system in a nice, gated neighborhood doesn't mean that everyone else can do that, too. Compared to the thousands you may be able to spend on personal security, a $200 surplus pistol or shotgun is a much more appealing option for someone in need of cheap protection.

Do not condemn those without lavish incomes to suffering just because you believe it "barbaric" or "ancient" to defend yourself with lethal force. Your simplistic view of life as something that can merely be changed with the snap of your fingers is ignorant, childish, and not appropriate for the making of policy.

And do not dare claim yourself to be a leftist for you would merely empower the rich and disarm the poor.

*mic drop*
"To my friends on the left, I ask you to reconcile your belief in freedom and dignity for all people with those images of children writhing in pain and going still on a cold hospital floor, for sometimes resolutions and statements of condemnation are simply not enough."
—
-President Obama, clearly referencing drone strikes in Pakistan, Yemen, Liby—
Wait, what's that?
Oh he's talking about Syria.
To get support for bombing them, you say?
Oh.
Well.
Well, yeah, sure.
I guess that makes sense…
I'm not actually going to do this every Monday, but since I've been trying to catch kids up on war and police brutality and the very in-your-face political topics, I thought it'd be nice to touch on something a little more subtle, but every bit as dangerous as any Statist propaganda—dangerous because this is what is shaping the mindsets of future leaders, thinkers, writers…
I present to you: »The highly intellectual thoughts of Feminist thought-leaders«
[This was originally going to be just a reblog of that list, but my comments got too long so I decided to just link to it. Moving on…]
Want to take away the rights of men and women? Don't try to do it all at once. Do it slowly, through contrived and convoluted rhetoric that sets them against each other. Cement women in their roles as victims, and men into the roles of victimizers.

Any woman who refuses to be known as a "victim" has been "brainwashed by the Patriarchy".

Any man who refuses to be known as a "victimizer" is a misogynist who needs to "check his privilege".
Stuck in these roles long enough they'll easily begin to actually hate each other. And once that happens you've effectively eliminated 50% of people who would object to policies and/or attitudes that hurt men or women.

And how easy it is to stick these roles on them with the false statistics they circulate, the biased studies they create and then reference, and the insanely hyperbolic reactions they have to things like: being hit on in an elevator (see Rebecca Watson v Richard Dawkins) or men making sex jokes—not even sex jokes, more like jokes with sexual innuendo (see Adria Richards v sex jokes/the world/two engineers who were not even addressing her). Say something they don't like and you will have an angry mob of Feminists inciting vitriolic backlash the likes of which you couldn't have imagined.

If we believe Feminism represents women, then inferring from the actions/words of feminists above we could only conclude that women are: dishonest, bad at statistics, bad at academic studies, inclined to overreaction, irrational, violent…
Wait a second, bad at math, over-emotional, spiteful? That sounds exactly like the public perception Feminism so LOVES to blame on "the Patriarchy".

It's starting to sound a lot like the Feminist movement actually hurts women more than it helps; it's starting to sound like Feminism itself perpetuates the stereotypes and victimhood mentality that stunt the progress of women as a group and as individuals; it's starting to sound like Feminism doesn't represent women at all, but instead-like So.Many.Political.Movements-represents only the interests of a handful of individuals who have the most to gain from the policies and perception their rhetoric creates.
Women can't be oppressors, women can't be sexist, women can't be rapists, women can't be domestic abusers…
This doesn't look like a win for women to me, it looks like a win for oppressors, sexists, rapists, and domestic abusers—and a heavy, heavy loss for their victims.
NSA and GCHQ unlock encryption used to protect emails, banking and medical records.
$250m-a-year US program works covertly with tech companies to insert weaknesses into product.
Security experts say programs 'undermine the fabric of the internet'.
"The agencies, the documents reveal, have adopted a battery of methods in their systematic and ongoing assault on what they see as one of the biggest threats to their ability to access huge swathes of internet traffic – 'the use of ubiquitous encryption across the internet'.
Yeah, how dare we encrypt our information! We're making it so hard for our friends in the NSA to steal it.
Those methods include covert measures to ensure NSA control over setting of international encryption standards, the use of supercomputers to break encryption with "brute force", and – the most closely guarded secret of all – collaboration with technology companies and internet service providers themselves.
Welp.

Anonymous asked: you're awesome, total role model
Thank you, Anon.
Believe it or not, sometimes it's messages like these that keep me going on here. I really appreciate them.
Anonymous asked: Just let me love you.
Okay sure, but… what exactly are you supposed to be?
A really cool moon?
Or like, one of those obnoxious emoticons from MSN?

Help me out here, buddy…
"The President does not have power under the Constitution to unilaterally authorize a military attack in a situation that does not involve stopping an actual or imminent threat to the nation.
 
As Commander-in-Chief, the President does have a duty to protect and defend the United States. In instances of self-defense, the President would be within his constitutional authority to act before advising Congress or seeking its consent. History has shown us time and again, however, that military action is most successful when it is authorized and supported by the Legislative branch. It is always preferable to have the informed consent of Congress prior to any military action…"
—
-Barack Obama (2007)
He forgot to mention, "Unless that president is me, and the military attack is on Yemen, Libya, Pakistan, and soon Syria."
"No, this is a different kind of pat-down, and we can't do that in public." When I asked him why this pat-down was different, he wouldn't tell me. When I asked him specifically why he couldn't do it in public, he said "Because it would be obscene."

Naturally, I balked at the thought of going somewhere behind closed doors where a person I just met was going to touch me in "obscene" ways…
I expect this kind of ignorance and xenophobia from government agents; the most sickening part of this story however, is that after all they put this man through: TSA, NYPD, FBI questioning and multiple pat-downs—refusing him even a drink of water while detaining him for hours for the crime of being brown and not Christian—in the end it was the private fucking airline that refused to let him fly.
Sherlock actor takes a break from filming on location in London and attacks the UK government over civil liberties violations
He mentions the smashed hard drives, Section 7, and David Miranda's detainment.
I have a whole new appreciation for this man.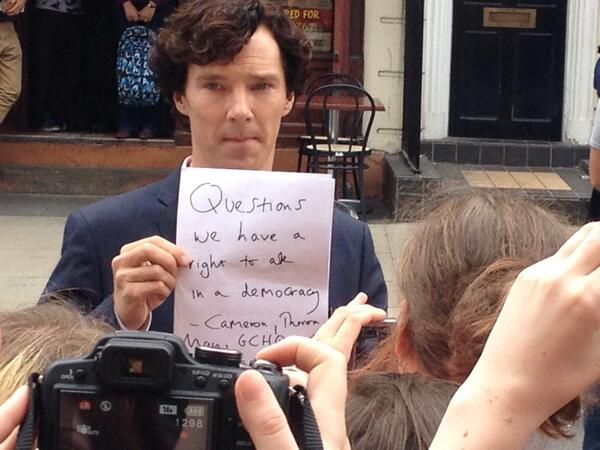 In the words of Glenn Greenwald,
"Gee, I wonder why Snowden doesn't trust US justice as a whistleblower."